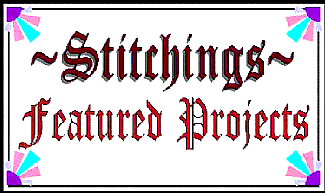 Our featured projects have been one of the best loved parts of our website and have had the most positive feedback from web visitors, so we have decided to leave the archives here for your enjoyment. There is no longer working navigation from each of the pages to the next, (Beseen.com closed its doors leaving us without a QuickNav system) so please access each of the pages from this stitchings archives link page.
Each link will open in a new window so you won't lose your place here. Enjoy!
---
---
Back to our home page.
Page Design © 2002 by Robin Leonard